"I'm excited Mrs Wahlberg! – wrote Donnie on Twitter, on Wednesday afternoon – Definitely a "can't miss" episode! So don't miss it!" Reading those words after having watched what happened last night on "The Masked Singer" on FOX, seems like the perfect clue; but could you have ever imagined?
Then the New Kids On The Block shared the teaser of the episode saying, "The early bird gets the worm, and the BH who misses tonight's @MaskedSingerFOX is gonna def miss all the fun! ?❤️"
But then again, could you have guessed?
And finally, we got to watch it…
Listening to a voice for over 30 years, growing up listening to a voice and, moreover, to that unique voice Donnie Wahlberg has, makes it impossible for a Blockhead to not recognize it in the blink of an eye. The texture Donnie Wahlberg's voice has is incomparable, and it's quite amazing to hear it when he sings a ballad like "I Need You" or raps like in "No More Games", switching between genres like a walk in a park and still holding such authenticity. Hashtag one of the kind!
Donnie Wahlberg performed as a celebrity guest in The Masked Singer (with a 25lb rooster head and rubber rooster talons) the song "Return of the Mack" by Mark Morrison, which is probably on the 90's playlist of every single Gen-X.
Jenny McCarthy couldn't guess it was her own husband behind the masks, because Donnie had planned it all very well; BHs guessed in different ways; and… there was a special tweet mentioning an "NKOTB World Wide Tour" that's keeping many BHs refreshing the cover of blog.
How Did The BHs Guess It Was Donnie?
Some, like @ltlbtty, recognized Donnie by his voice; "I knew it & squealed like I was at a concert when He finally unmasked & revealed his handsome face! I also thought it was him doing the voice over on one of the episodes too." Nadia also said, "i heard the first note and i instantly knew it was donnie his voice is so recognizable at this point"
Lisa recognized him by the clue Donnie had given; she said, "I got Donnie from the Zookeeper clue that he sent to @kenjeong!! He was in that movie with him & Kevin James!!!! I even bet my hubby a craft shopping trip!! Then he sang and that confirmed it!!"
And others like Meredith, believe that the "marshmallow" shake would have been the ultimate clue; "Had I not known the vocals, the butt shake would have been a giveaway @DonnieWahlberg"
In fact Donnie – in response to Kendal who have written, "Knew it was you the minute you started singing!! Been a Donnie girl from the beginning!!" – tweeted back saying, "I thought the Marshmallow shake would've been the giveaway."
Donnie retweeted a little reminder Jane left…
How Come Jenny McCarthy Didn't know?
If there's one thing – among so many! – that Donnie Wahlberg knows how to do well, is to keep a secret so he can reveal it as a shocking and exciting surprise; and apparently he can even surprise his wife to the point of leaving her floored!
After the show, Donnie tweeted, "Mrs W aka @JennyMcCarthy is still embarrassed that she didn't guess me — after guessing me 348 times in the four previous seasons of #TheMaskedSinger"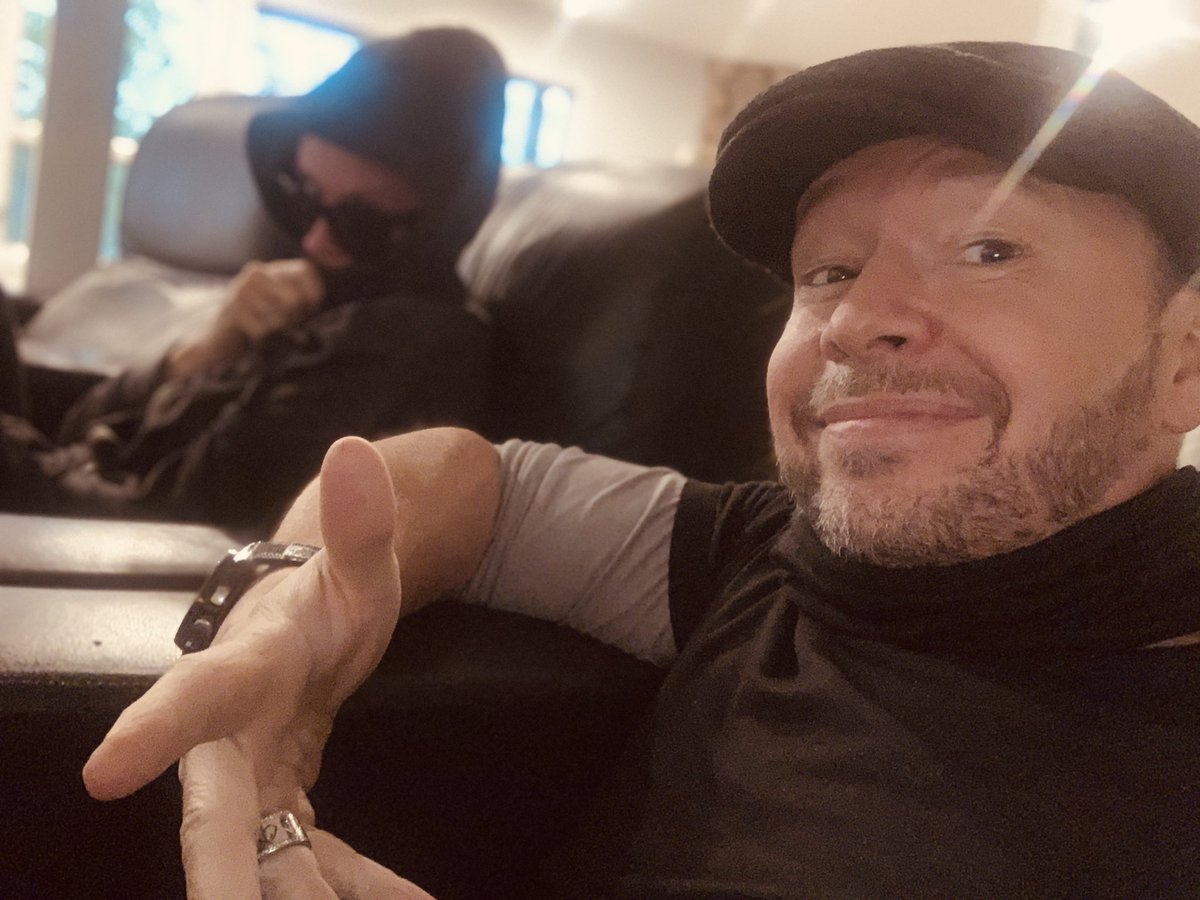 He also wrote, "Maybe she was told she couldn't guess her hubby any more since she'd already guessed me 112 times per season for four years."
Jenny tweeted, with a clip, "This is gonna take a while to get over. The shame. Thank God @DonnieWahlberg still loves me. Amazing job tonight mister. I love you."
On Friday, Donnie explained on Twitter, "I face timed @JennyMcCarthy an hour before I preformed (dressed as Danny Reagan) and I told her I was on set in New York. Her, @robinthicke & @NicoleScherzy, all thought I was in New York filming so they'd never guess it was me. @kenjeong almost got it with "Zookeeper" clue."
What Did Donnie Say?
After the big reveal, Donnie said,
"There's two reasons why I'm here honestly. One, obviously to see my wife; and two, you know, it's been so long since I performed for my fans; New Kids On The Block fans, affectionally known as Blockheads, they are like, they are family, they are my heart."
People from HLN, where Donnie Wahlberg hosts "Very Scary People", tweeted, "Donnie! We thought #VSP was #VeryScaryPeople not 'Very Secret Poultry'!" To which Donnie replied, "Are we doing #DadJokes? That's fowl. #VSP #TMS ???"
Finally, What About That "Tweet"?
Even though, to this date, NKOTB hasn't released an official announcement for their World Wide Tour in 2022, we know it's going to happen thanks to Donnie's tweets and Instagram stories throughout this year.
Regarding Morrison, Donnie Wahlberg posted a clip of his performance saluting Mark Morrison; Mark reposted it, and Donnie shared it replying with a "See you in 2022"
But certainly, the tweet that stroke us the most was the one in which Donnie Wahlberg wrote, "See some of you soon at #NKOTBBDFenway, some of you via satellite and all of you WORLDWIDE, in 2022!"
Now…, do you believe?