Highlights of the week? Joey McIntyre and Debbie Gibson added a 4th show, to their mini residence in Las Vegas, right after the pre-sale on Monday; CBS aired Blue Bloods' season finale with two episodes; an event for Remember Betty was announced and… it was Danny Wood's birthday!
News about Jordan Knight? He remains MIA. Jonathan Knight didn't post anything this week either, but! Follow Kristina Crestin on Instagram and you'll see him there, adding more content about Farmhouse Fixer. ?
And, after many teasers, Donnie wrapped up the week with an Instagram Story on Saturday night saying, "Let's talk on Tuesday."
Without any further introduction, here's what you saw and what you may have missed!
Posts In This Edition
Heads Up!
Remember Betty has announced a new virtual event! A "Beach Bingo & Trivia Night" on May 29, organized by Team Betty Sacramento. Tickets are available for $35.
Head over to rememberbetty.com/BeachBingo to grab your ticket!
Note: All upcoming events are available at the bottom of the blog. Scroll down, and find yours!
NKOTBoston: Believe, Believe
The waiting for a final confirmation of the Fenway Park concert seems to have no end, and Donnie Wahlberg and Joey McIntyre teased us on Tuesday through their Instagram Stories.
Mac World
Joey McIntyre kicked off the week by adding a fourth show to his upcoming performances in Las Vegas; on twitter he said Debbie and him "had been stocked all day long" seeing people grabbing tickets and that they were saving some for the Friday sale too.
He also posted two photos on Monday on his IG stories; on the first one, regarding the pre-sale, he said, "Never gets old knowing you guys wanna come and hang out with me;" on the second one, he showed his worries about his missing daughter Kira ?
On other news ??‍♀️, "The Kid" felt like James Bond on Tuesday morning, before publishing his daily meditation, when he received the confirmation to pick up his coffee under the order "#007"
Note: He actually published two "Namaste"'s clips this week. The first one is the one attached to Donnie's Stories; and the second one was published on Thursday.
On Saturday he was spotted on the beach by a selfie (yup, I say that's a thing) with the adorable Roxy.
The Wood Works
On S2 E6 of The Wood Works, Danny Wood (featuring special guest "Hulk") walked us through a recipe he's "extremely proud of": Betty's favorite cookies, "Pecan Sandies."
On Saturday he invited us to re watch the first season of The Wood Works, and said, "My team & I are excited for what's ahead. I'm thankful & blessed to be able to share these things that I love with you- family, food, fitness, & fun."
Oh Captain, My Captain
Donnie Wahlberg, besides teasing us on Tuesday with the Fenway Park concert, posted more stories and gave a shoutout to Jenny McCarthy who's about to wrap up the 5th season of The Masked Singer.
The Masked Singer
On Wednesday, Donnie shared a Tik Tok from Jenny saying, "I'll be watching you Mrs W." Please allow me to add that if she looks like a diva, and walks like a diva…???
Blue Bloods… And Something Else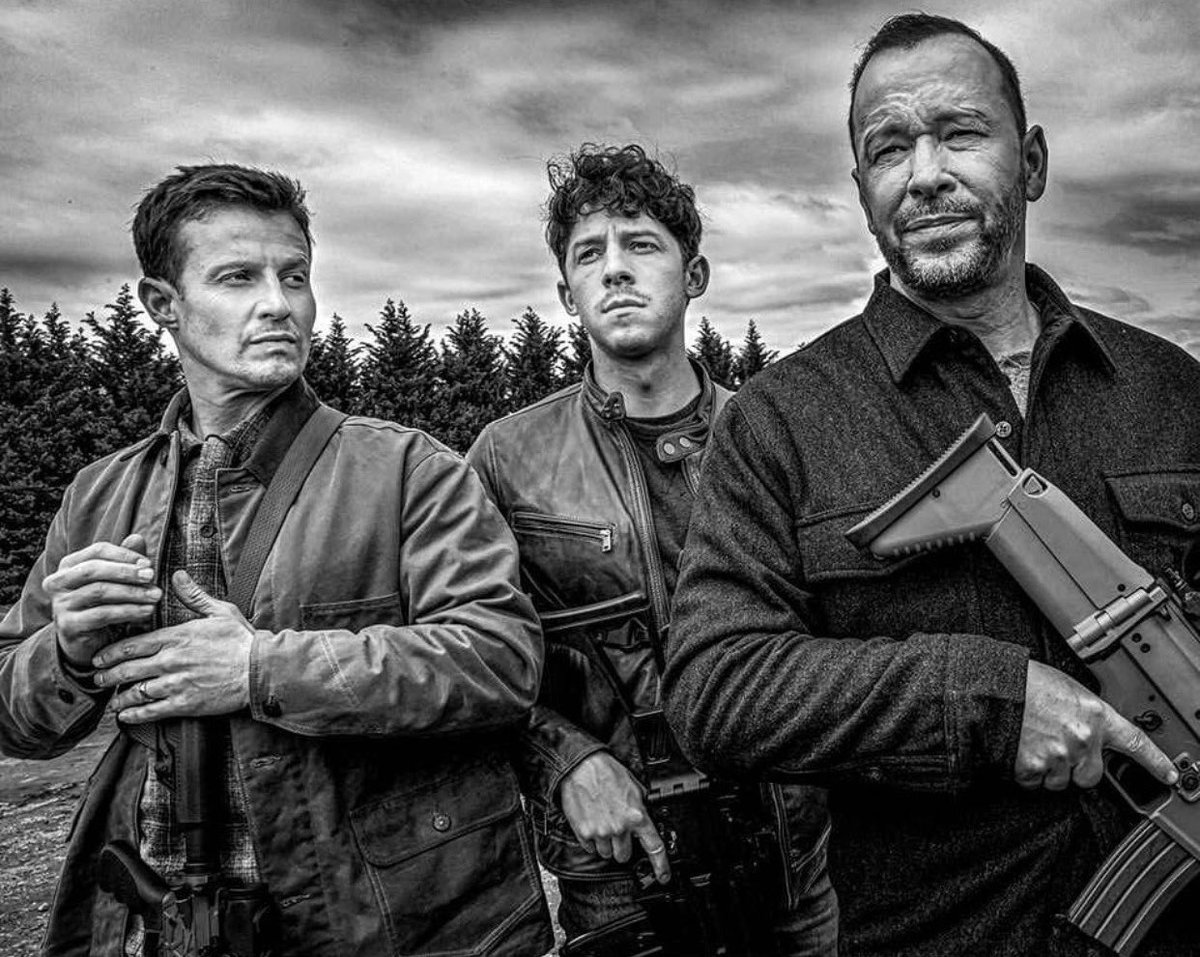 The season finale of Blue Bloods, aired with two episodes for the first time (as Donnie mentioned on the live stream with Joey and Griffin McIntyre). During the transmission, he shared a funny TikTok from Jenny drinking "Blondies."
He also tweeted live …, and there's one replied that set a BH alert.
Alisha tweeted, "I'm sad this is the finale though!!! I was just enjoying the normal Friday night routine. May I pout bc I don't wanna wait again?!?!? #bluebloods" And Donnie answered quoting her tweet:
"Don't fret — many more good things coming! A few very big ones next week! ?❤️
#BlueBloods #BHLove ?❤️♾"

Donnie Wahlberg / Twitter
Donnie closed the night thanking for the support to the show…
…which trended, of course…
Remember When
Well, well… Here are a few dates regarding NKOTB History you may want to add to your calendar ?
May 10, 1900. The song "Step By Step" was released as the first single of the Album "Step By Step" [NKOTB's Tweet]
May 12, 2017. The EP "Thankful" was released [NKOTB's Tweet]
May 13, 2008. The song "Summertime", was released as the 1st single of NKOTB's "The Block" [NKOTB's Tweet]
May 15, 1999. Jordan Knight's "Give It To You" peaked to the #10 position on the Billboard Hot 100.
For this TBT, Donnie shared on his IG Stories a photo (CIRCA 1990) of him surrounded by his sneakers; he always did love his sneakers… ☺️
Spreading Joy for What's Coming
Donnie Wahlberg, after posting the Instagram Story on Saturday night that could have collapsed the Internet, shared another TikTok from Jenny with their "Sunday mood". Happy like children! Maybe that's how we'll feel on Tuesday ?
So… that's a wrap!
And, you know, "Let's talk on Tuesday" ?